Dhanu Rashifal | Sagittarius Horoscope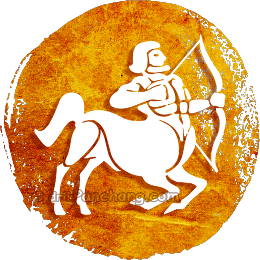 …know what Panditji predicts for the year.
Health: The individuals born under this sign may face some health-related problems this year. Conditions affecting eyes, liver, throat, abdomen; and diabetes, arthritis may affect your health. Lack of proper sleep will keep you edgy. Avoid fatty food; instead, incorporate more protein and fibre in your diet. Medical expenses will go up, cold and headache will bother you. It would be necessary for you to maintain your mental and physical well-being.
Financial Condition: The year will bring some significant changes to your financial condition. Your overall income will increase but expenses will also shoot up. Financial gains are likely. Diligent and sincere efforts will surely help you in boosting the earnings; you will eventually strengthen your financial condition. Big businesses will register an increase in revenue. If you are deliberating on taking some financial risks, then consult someone experienced before moving ahead.
Business and Career: You will successfully implement the new ideas and plan in your business this year. However, it would be better to take one step at a time; your over-enthusiasm may spoil the chances of success. The share market will give you erratic results; assay the market condition before investing. Your business will see a significant surge. Working professionals awaiting the promotion will have a favourable year; try to use reference for quick results.
Family and Social Life: The decision you will make will largely influence your family life this year. You will strengthen your standing on the social level, but someone in your family will try to tarnish your image. Disputes will be rife in the family all through the year, especially with in-laws, parents and siblings. The difference in opinions may turn the relations hostile. All your efforts will go against you. Your overly busy schedule will also cause tiff in the family.
Love Life: The individuals born under this sign will have a positive year for love and romance. There will be fights but in the end, you will have a deep and strong relationship with your partner. Avoid unnecessary arguments. A new relationship is also on the cards. You will spend some memorable moments with your partner vacationing together. Always remain by each other's side, even if you have disputes and misunderstanding, resolve them amicably. You should handle your relationship with love and care.
Fairer Sex: The year will pose some concerns on the health front for the women born under this sign. Old ailments will resurface and bother you. Abdominal pain and other gynecologic problems, flatulence may trouble you. The year is positive for couples who want to conceive. The married life will be average. Make judicious decisions in life. Better marital prospects are building for single women.
Governmental Position: The year will bring fame and recognition if you are a politician. You may have to travel extensively for campaigning. There will be favourable prospects for you in politics. These encouraging prospects will reflect in positive outcomes, your increasing connections, and exceptional mental strength. You will be confident enough to take new risks. Keep faith in your skills and capabilities.
Student Life: This year your creative energy will prompt on the path of success. Unemployed individuals will get job opportunities. Your hard work will finally pay off. Better growth opportunities will come your way. Students are advised to remain focused on their studies. You will receive help and support from your friends and fellow students. Your health may pose a hindrance in your education and academic pursuits; remain careful. Take a balanced diet and take care of your health.
Summary: The year will prove to be important and decisive for the individuals born under this sign. Struggles and challenges will pose some constraints in your path. Make hard work your first priority if you wish to get the desired success. Gains in the business and promotion in the job are likely. Do not let unnecessary arguments affect your married life. Your health will be a matter of concern. Take regular meals at the proper time. Excessive travelling will affect your health.
Precaution: -Make your budget as per your earnings.
-Do not take a loan, especially by mortgaging your property.
-The market will be erratic this year; don't let the fluctuations in the business disappoint you.
-Disputes between married couples and lovers are possible, remain calm.
-Do not let your joint business go down or face any problems, remain attentive.
-Remain focused on your studies and limit the usage of electronic gadgets.
-Your children may pose some concerns, calmly solve the matter.
-Develop discretion in your conduct, listen carefully what's being said and then offer your opinions.
Suggestion: -Chant the following Mantra 108 times.
-Keep fast on Saturdays with devotion.
-Donate black clothes, black grams, black sesame, oil, Ghee, iron utensil, umbrella, and black shoes to someone who works at cremation ground or to a handicapped beggar on Saturday evening.
-Recite Shree Hanuman Chalisa 100 times in one sitting on Saturday evening.
-Worship Lord Shiva, chant Mahamrityunjaya Mantra, perform Abhishek with devotion.
'We wish you an auspicious year full of happiness and joy'.
Hreem Nilaanjansamabhasam Raviputram Yamagrajam।
Chhayamaartandsambhutam Tam Namami Shaneishcharam॥

ह्रीं नीलाञ्जनसमाभासं रविपुत्रं यमाग्रजम्।
छायामार्तंडसम्भूतं तं नमामि शनैश्चरम्॥

Panditji of Drik Panchang wishes you a happy and prosperous day.
Rashi Lord
बृहस्पति | Jupiter
Rashi Letters
भ, ध, फ, ढ | Bha, Dha, Pha, Dha
Nakshatra Charana Letters
ये, यो, भा, भी, भू, धा, फा, ढ, भे
Ye, Yo, Bhaa, Bhee, Bhoo, Dhaa, Phaa, Dha, Bhe
Adorable God
श्री विष्णु नारायण
Shri Vishnu Narayan
Favourable Color
पीला | Yellow
Favourable Direction
पूर्व | East
Rashi Metal
कांस्य | Bronze
Rashi Stone
पुखराज | Yellow Sapphire
Rashi Favourable Stone
पुखराज तथा माणिक्य
Yellow Sapphire and Ruby
Rashi Favourable Weekdays
बृहस्पतिवार तथा रविवार
Thursday and Sunday
Rashi Temperament
द्विस्वभाव | Dual nature
Rashi Element
अग्नि | Fire
Choose Your Rashi | Moonsign

Mesha
Aries

Vrishabha
Taurus

Mithuna
Gemini

Karka
Cancer

Simha
Leo

Kanya
Virgo

Tula
Libra

Vrishchika
Scorpio

Dhanu
Sagittarius

Makara
Capricorn

Kumbha
Aquarius

Meena
Pisces