Lord Ganesha
Lord Ganesha is one of the most popular deities in the Hindu religion. Lord Ganesha is also known as Ganapati and Vinayaka. Lord Ganesha is the son of Lord Shiva and Goddess Parvati and the brother of Lord Kartikeya.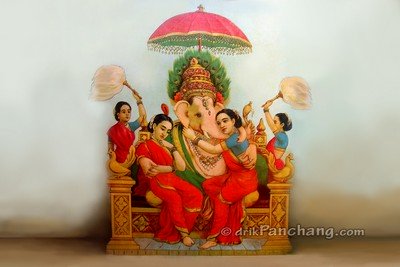 Ganesha Family
Lord Ganesha is embodiment of three virtues namely Buddhi, Siddhi and Riddhi known as wisdom, spirituality and prosperity respectively. Lord Ganesha is the personification of Buddhi Himself. The other two virtues are personified as Goddesses and considered to be the consorts of Lord Ganesha. Most of the art works show Ganesha flanked by two consorts who are named as Riddhi and Siddhi. It is believed that Riddhi and Siddhi were daughters of Lord Brahma who himself conducted wedding ceremony of Lord Ganesha.
As per Shiva Purana, Lord Ganesha had two sons who were named as Shubh and Labh. Shubh and Labh are personification of auspiciousness and profit respectively. Shubh was the son of Goddess Riddhi and Labh was the son of Goddess Siddhi.
There are different opinions on the marital status of Lord Ganesha. According to one opinion Shri Ganesha is an unmarried Brahmachari. However Mudgala and Shiva Purana are considered as authority on the marital status of Lord Ganesha and both Puranas talk about the marital life of Lord Ganesha.
Ganesha Iconography
Lord Ganesha is represented with human body having elephant head. Usually He is depicted with four hands and carries a noose and a goad in upper hands. One of the lower hands of Lord Ganesha is shown in Abhay Mudra while in the other lower hand He holds a bowl full of Modaks. The mount of Lord Ganesha is a mouse.
Important Festivals
The birth anniversary of Lord Ganesha is celebrated as Ganesha Chaturthi.
Ganesha Incarnations
As per Mudugal Purana there are 8 incarnations of Lord Ganesha which are the most significant one and famously known as Ashta Vinayaka. Lord Ganesha is also worshipped in 32 different forms.