📅
Choose Year
Search City

New Delhi, NCT, India
New Delhi, India
Dhanu Sankranti
December 2019
Monday / सोमवार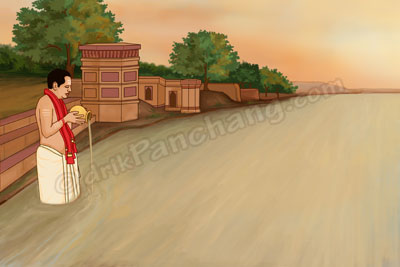 Dhanu Sankranti Punya Kaal Muhurta
Dhanu Sankranti Punya Kaal Muhurta
Dhanu Sankranti on
Monday, December 16, 2019
Dhanu Sankranti Punya Kala -
03:43

PM

to

05:27

PM
Duration -
01

Hour

43

Mins
Dhanu Sankranti Maha Punya Kala -
03:43

PM

to

05:26

PM
Duration -
01

Hour

43

Mins
Dhanu Sankranti Moment -
03:43

PM
Dhanu Sankranti Phalam
Dhanu Sankranti Phalam
Good for cruel, sinful, corrupted people and criminals
Commodities cost would be expensive
Brings excess suffering
Good health for people, affinity among nations and increase of grain stocks
Dhanu Sankranti Muhurta
Dhanu Sankranti Muhurta
Sankranti Karana:
Kaulava
Sankranti Day:
Monday / सोमवार
Observation Date:
December 16, 2019
Transit Date:
December 16, 2019
Sankranti Moment:
03:43
PM
,
Dec 16
Sankranti Ghati:
25 (Dinamana)
Sankranti Moonsign:
Karka
Sankranti Nakshatra:
Ashlesha (Daruna Sangyaka)
Sankranti Property
Phalam Indication
Upa Vahana
/ Secondary Vehicle
Vrishabha / Bull
Gandha Dravya
/ Poultice on Body
Surkha Chandan
Avastha
/ State/Condition
Rati / Love
Bhojana Patra
/ Food Vessel
Tamra / Copper
Notes: All timings are represented in 12-hour notation in local time of New Delhi, India with DST adjustment (if applicable).
Hours which are past midnight are suffixed with next day date. In Panchang day starts and ends with sunrise.
What is Sankranti or Sankraman?
Sankranti is a phenomenon when the Sun transits from one zodiac to another zodiac while travelling through zodiac belt. There are twelve Sankranti in a solar year. Sankranti is also known and spelt as Sankraman or Sankranthi or Sankramanam.
When is Dhanu Sankranti celebrated?
When the Sun (Surya Dev) enters the Sagittarius sun sign or the dhanu rashi, Dhanu Sankranti is celebrated.