Raksha Bandhan Puja Vidhi along with Rakhi Mantra
Tradition of Raksha Bandhan
In modern context the meaning of Raksha Bandhan has changed significantly. It is believed to be the festival which is meant for brothers and sisters i.e. only for siblings. Rakhi has become the sobriquet of Raksha Bandhan. However all Vedic reference to this ritual are mentioned with Raksha Bandhan.
Since Vedic time Raksha Bandhan is a significant ritual which is performed to ward off fear of ghosts, bad spirits and Pishach (vampires). All sorts of diseases and bad omens can be avoided by performing the ritual of Raksha Bandhan. Similar to Holika Dahan, Raksha Bandhan is yearly ritual to get protection from all sort of bad things which might occur throughout the year. Raksha Bandhan should be performed during Shravana Purnima after avoiding Bhadra timings.
The Raksha Bandhan Puja Vidhi has been described in Vratraj. According to Vratraj, Raksha Bandhan is ritualistic tying of the thread, which protects the person from all sorts of evils. Raksha, in the form of sacred thread, is personified as the divine power who makes the worshipper fearless. It is believed that it was Shachi, the wife of God Indra, who created Raksha to protect her husband from demons in the war. Since then Raksha is worshipped for victory, comfort, sons, grandsons, wealth and health.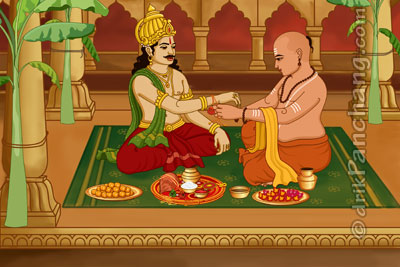 Raksha Bandhan Puja Vidhi
On the day of Shravana Purnima, a full ritualistic bath should be performed during Pratahkal before sunrise. After bath one should perform Deva and Pitra Tarpan, a ritual to appease Gods and ancestors. The ritual of Upakarma, which is famously known as Avani Avittam in Tamil Nadu, should be done in the morning.
As per Vratraj, the ritual of Raksha Bandhan should preferably be done during Aparahna time. The main ritual of Raksha Bandhan involves the worship of Raksha and tying it to the wrist in the form of Raksha Potli or Raksha bundle. The Raksha Potli should be made of unbroken rice, white mustard and the gold thread. Raksha Potli should be woven with colored fabric made of cotton or woolen and should be kept on a clean cloth for the Puja. The Ghatasthapana is also suggested for Raksha Bandhan Puja.
All Bhudeva should be worshipped and clothes should be offered to them. After Bhudeva Puja, Raksha should be worshipped and Raksha Potli should be fastened to the wrist along with the chanting of Mantra. The Mantra which should be chanted while tying Raksha Potli is given below -
The meaning of Raksha Mantra is as following -
"I tie you with the same Raksha thread which tied the most powerful, the king of courage, the king of demons, Bali. O Raksha (Raksha Sutra), please don't move and keep fixed throughout the year."
It is believed whoever worship Raksha on Shravana Purnima would be happy throughout the year. In North India, sisters tie the thread on the wrist of their brothers and seek for their protection. In modern context brothers are playing the role of divine power Raksha who protects her worshippers.