Ashta Lakshmi
Ashta Lakshmi - 8 Forms of Sri Lakshmi
Dhana Lakshmi
Dhanya Lakshmi
Gaja Lakshmi
Santana Lakshmi
Veera Lakshmi
Vijaya Lakshmi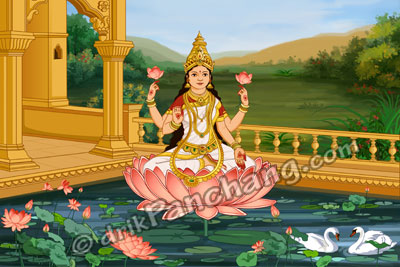 Aishwarya Lakshmi
List of Ashta Lakshmi
In Hinduism, Goddess Lakshmi is worshipped in several forms. The most popular forms of Goddess Lakshmi are eight which are collectively known as Ashta Lakshmi. There are different opinions on the manifestations of Goddess Lakshmi in Ashta Lakshmi. However, following manifestations of Goddess Lakshmi are mentioned while describing the iconography of Ashta Lakshmi.
Adi Lakshmi - the primal mother goddess
Dhana Lakshmi - goddess of material wealth
Dhanya Lakshmi - goddess of good harvest and grains
Gaja Lakshmi - goddess of power and strength
Santana Lakshmi - goddess of off-springs and progeny
Veera Lakshmi - goddess of courage and strength
Vijaya Lakshmi - goddess of victory
Aishwarya Lakshmi - goddess of comfort and luxury
In Ashta Lakshmi Stotram, composed in the 1970s by Shri U. Ve Mu Srinivasavaradacharyar, Veera Lakshmi is replaced by Dhairya Lakshmi and Aishwarya Lakshmi is replaced by Vidya Lakshmi. As per the Stotram the list of Ashta Lakshmi is as following.
Adi Lakshmi
Dhanya Lakshmi
Dhairya Lakshmi - goddess of patience and self-restraint
Gaja Lakshmi
Santana Lakshmi
Vijaya Lakshmi
Vidya Lakshmi - goddess of wisdom and knowledge
Dhana Lakshmi
In Ashta Lakshmi Ashtottara Shatanamavali i.e. 108 Names of Ashta Lakshmi, the 8 forms of Ashta Lakshmi are similar to that of Ashtalakshmi Stotram but replaces Dhana Lakshmi by Aishwarya Lakshmi.
It is significant to mention that Vijaya Lakshmi is also known as Jaya Lakshmi. The other forms of Goddess Lakshmi, which are also worshipped, include
Saubhagya Lakshmi
Rajya Lakshmi
Vara Lakshmi
Griha Lakshmi
Vaibhava Lakshmi
Bhagya Lakshmi