Lord Shiva
Lord Shiva is a Hindu deity and represents the aspect of the Supreme Being. The meaning of the Sanskrit word Shiva is 'pure and destroyer'. According to Hindu mythology, Shiva is the destroyer among the Trimurti. He is the god of the Yogis and described as an omniscient Yogi, who lives an ascetic life on Mount Kailash. Shiva is known by several names - Mahadeva, Pashupati, Bhairava, Vishwanath, Bhole Nath, Shambhu and Shankar. Shiva is the cosmic dancer and also known as Nataraja, the Lord of Dancers. Hindus recognize Lord Shiva by putting His shrine in the temple separate from those of other deities in the form of Shivling.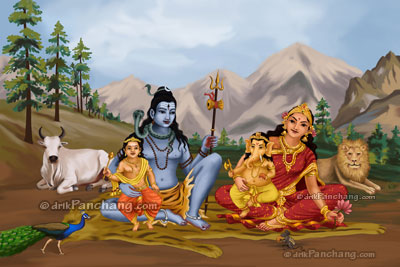 Family
In the divine family of Lord Shiva, there are four members - Shiva, His wife Parvati, and two sons - Kartikeya and Ganesha. Kartikeya is the god of war while Ganesha is the god of obstacles. According to Hindu mythology, before marrying Goddess Parvati, Lord Shiva had married Sati, the daughter of Daksha. Lord Shiva is often depicted immersed in deep meditation on Mount Kailash. The mount of Lord Shiva is bull Nandi.
Iconography
There are certain attributes that are common to all pictures and images of Shiva venerated by Hindus which makes him distinct from other deities. His matted hair piled high on the top of His head with a crescent moon tucked to it and the river Ganges flowing out from His hairs. A coiled serpent can be seen around His neck or wrist and He is depicted with blue throat. In His left hand He holds a Trishul, a trident with a drum tied to it. He sits on a tiger skin and shown with a Kamandal, a water pot, on His right side. He wears the Rudraksha beads and His unclad body is smeared with ash. He has a third eye on His forehead.
Important Festivals
Devotees of Lord Shiva celebrate Maha Shivaratri, the great night of Shiva. It is a Hindu festival which is celebrated every year in the reverence of Lord Shiva on the 13th night or the 14th day of the new moon in the Krishna Paksha of the month of Phalguna as per north Indian calendar and in the month of Magha as per south Indian calendar. However both calendars observe Maha Shivaratri on the same day. This festival is of utmost importance to the devotees of Lord Shiva. It is believed that Lord Shiva protects His devotees from evil forces and gives strength to control worldly desires such as the lust, the greed and the anger. Maha Shivratri is considered especially auspicious for women. Married women pray for the well being of their husbands, while unmarried women pray for an ideal husband like Shiva.
Mantra
Five is a sacred number for Shiva. One of His most important mantras - Om Namah Shivaya (ॐ नमः शिवाय) has five syllables.
Temples
In India there are twelve holiest Shiva temples, famously known as Jyotirlinga.