Vrishchika Rashifal | Scorpio Horoscope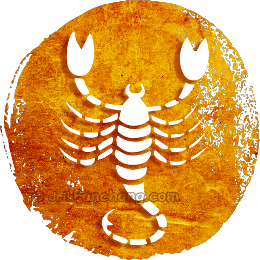 …know what Panditji predicts for the year.
Health: Your health this year will not be as good as your expectations. You will have to be careful in every aspect. Physical well-being will suffer; some minor problems will keep troubling you all through the year. You will have to incorporate some positive changes into your diet and routine. Individuals suffering from a critical disease must remain careful and adopt a healthy diet regimen. Mental stress may increase. Protect yourself against viral infections. Practice meditation and don't let your patience fade away.
Financial Condition: The year looks average on the money front for you. You may not get the outcomes or profit in accordance with the work sometimes. The business will fare satisfactorily, but again the revenue will be scarce. Do not do anything in haste; your one impetuous decision will lead to irrevocable losses. Outlays will go up, prudently make your budget and avoid unnecessary expenditures. There will be a significant difference between outgoings and income. Save as much as you can. Some sudden expenses are likely.
Business and Career: The year will be average on the professional front also, your business and job will generate average results. Businesses that deal in housing materials like cement, iron rods, and other such stuff will make a better profit. Remain careful while dealing with land and housing property. Work hard to fulfill your dreams instead of relying on others. The market will be largely slow, don't blame on your employees for the poor revenue. The business may go through some major transformation this year.
Family and Social Life: The year will be positive for you on the social and family level. You will lead a comfortable life and add more means of comfort and luxury in your lifestyle. You may invest in land and house property or buy a new vehicle. You will give priority to your family and spend some joyous time with them. Birth of child will bring immense joy and happiness. With the support of your siblings, you will complete some unfinished work this year. If you have a joint business with your brother then the year will bring exceptional growth opportunities for you.
Love Life: The year will be exciting and happening in your love life. You will get into a new relationship. Married couples should value and respect each other's feelings. Display your gratitude and compliment your partner when they do or make something for you. Husband and wife should try to maintain cordiality and harmony in their relationship. You may plan and take a trip with your girlfriend to some beautiful destination this year. Avoid unnecessary arguments and settle the disputes amicably.
Fairer Sex: You will have an auspicious year as far your family life is concerned. There will be peace and happiness in the home. Family members have harmonious relations with each other. Your married life will be fulfilling and blissful. Pregnant women should remain extra careful; some complications in the pregnancy are possible. The health of a family member will increase your worries. You will earnestly fulfill your familial responsibilities. An auspicious event in the family will make everyone happy.
Governmental Position: It would be better to remain safe instead of taking unnecessary risks. You may have to face the anger of your superiors in the political domain. Your increasing influence, confidence and authority in your political realm will turn many people your adversaries, even your colleagues from your own party will try to pull you down. Remain cautious of backstabbers. Get ready to face betrayal and breach of trust.
Student Life: The year will turn out to be unforgettable for you. You are just one step away from success, make appropriate efforts in the right direction and grab it. You will find the desired outcomes in your pursuits. Students relocating to other cities or abroad for higher students will be happy and cheerful for their future. Stay away from college-school level politics; you will only waste your time. Success will also boost your standing and respect. Remain focused on your goal.
Summary: On average, the year will be positive for you. Working professionals will find exceptional results in their respective domain. An overseas trip is also likely. Your health will be average this year, take care of your eating habits. The marriage-related talks for singles will move ahead in a positive direction. Individuals wishing to have clandestine-marriage must wait till the appropriate time comes. You will have cordial relations with loved ones, the absence will be felt. Overall, the year will fulfill your expectations.
Precaution: -Do not argue with loved ones and well-wishers, they know what's better for you.
-Do not force anyone to accept your lies or propaganda.
-You know your limitations and capabilities very well, undertake anything after thorough consideration.
-Keep your enemies, anger and stubbornness under control
-Involve your loved ones and family members in important events or celebrations of your life.
-Do not interfere in the personal lives of other people, wait until you are asked or invited.
-Too much ego and conceit will only harm you, try to be easygoing and agreeable.
-Take care of your food habits, do not consume unhealthy food
Suggestion: -Chant the following Mantra 108 times.
-Keep fast on Saturdays; take your meals in the evening.
-Recite Shree Hanuman Chalisa or Sundarkand.
-Adopt a positive outlook for life and the people around you.
-Chant Shree Mahamritunjaya Mantra and make religious offerings (Havan-Aahuti).
-Morning and evening, light Diya and incense daily at your home, shop, office or place of work.
-Avoid alcohol and maintain distance from every kind of vice.
'We wish fulfillment of all your wishes and desires this year'.
Hreem Nilaanjansamabhasam Raviputram Yamagrajam।
Chhayamaartandsambhutam Tam Namami Shaneishcharam॥

ह्रीं नीलाञ्जनसमाभासं रविपुत्रं यमाग्रजम्।
छायामार्तंडसम्भूतं तं नमामि शनैश्चरम्॥

Panditji of Drik Panchang wishes you a happy and prosperous day.
Rashi Letters
न, य | Na, Ya
Nakshatra Charana Letters
तो, ना, नी, नू, ने, नो, या, यी, यू
To, Naa, Nee, Noo, Ne, No, Yaa, Yee, Yu
Adorable God
श्री हनुमान जी
Shri Hanuman Ji
Favourable Color
लाल | Red
Favourable Direction
पूर्व, उत्तर | East, North
Rashi Metal
तांबा, स्टील, सोना | Copper, Steel, Gold
Rashi Stone
मूंगा | Red Coral
Rashi Favourable Stone
मूंगा, माणिक्य तथा पुखराज
Red Coral, Ruby and Yellow Sapphire
Rashi Favourable Weekdays
मगंलवार, बृहस्पतिवार तथा रविवार
Tuesday, Thursday and Sunday
Rashi Temperament
स्थिर | Stable
Choose Your Rashi | Moonsign

Mesha
Aries

Vrishabha
Taurus

Mithuna
Gemini

Karka
Cancer

Simha
Leo

Kanya
Virgo

Tula
Libra

Vrishchika
Scorpio

Dhanu
Sagittarius

Makara
Capricorn

Kumbha
Aquarius

Meena
Pisces