Lord Vishnu
Lord Vishnu is one of the most significant Gods in Hindu religion. Along with Lord Shiva and Lord Brahma, He is the part of the Trimurti concept of Hinduism. Lord Vishnu is the preserver and the protector of the universe while Lord Shiva and Lord Brahma are the destructor and the creator of the universe respectively.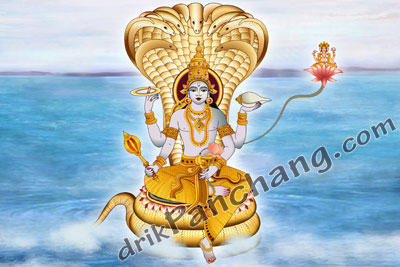 Lord Vishnu is the supreme god of the Vaishnava Sampradaya.
Lord Vishnu Family
The wife of Lord Vishnu is Goddess Lakshmi, the goddess of wealth and prosperity. It is believed that the Goddess Lakshmi resides in the heart of Lord Vishnu and devotees who worship Lord Vishnu are also blessed with the wealth and prosperity.
As per South Indian traditions, Shridevi and Bhoomadevi are the two consorts of Lord Vishnu. Hence, in few images, Lord Vishnu is flanked by two consorts.
Lord Vishnu resides in Kshir Sagar, the milky ocean. Lord Vishnu rests on the couch made of the serpent Sheshnag. The lotus, the beloved flower of Goddess Lakshmi, originates from the navel of Lord Vishnu and Lord Brahma mounts on the same flower.
Lord Vishnu and Goddess Lakshmi have 18 sons, named Devasakha, Chiklita, Ananda, Kardama, Shriprada, Jataveda, Anuraga, Samvada, Vijaya, Vallabha, Mada, Harsha, Bala, Teja, Damaka, Salila, Guggula, Kuruntaka.
Lord Vishnu Festivals and Vrats
Lord Vishnu Mantra
One of His most important Mool Mantra-
ॐ नमोः नारायणाय। ॐ नमोः भगवते वासुदेवाय॥
Om Namoh Narayanaya। Om Namoh Bhagavate Vasudevaya॥
Lord Vishnu Incarnations and Swaroop
There are 10 popular incarnations of Lord Vishnu which are popularly known as Dashavatara.
Matsya
Kurma
Varaha
Lord Narasimha
Vamana
Parashurama
Balarama
Kalki
Dashavatara is the most popular list of incarnations of Lord Vishnu. However another list which gives 24 incarnations of Lord Vishnu is also popular among devotees of Lord Vishnu.
Adi Purush Avatar - pre-eminent man
Sanat Kumar – Brahma Manasa Putra
Varaha Avatar - boar incarnation
Narada Avatar
Nara Narayana Avatar
Kapila Avatar
Dattatreya Avatar - Datta incarnation
Yajna (यज्ञ) Avatar – Yajna born to Prajapati and Akuti
Rishabha Avatar – Rishabhadeva Avatar
Prithu Avatar
Matsya Avatar – fish incarnation
Kurma Avatar or Kachchhap Avatar – tortoise incarnation
Dhanvantari Avatar – the Lord of medicine
Mohini Avatar – incarnation as a most enchanting woman
Narasimha Avatar – incarnation in the form of half-man and half-lion
Hayagriva Avatar – incarnation with horse face
Vamana Avatar – incarnation as a dwarf
Parashurama Avatar
Vyasa Avatar – Veda Vyasa incarnation
Shri Rama Avatar
Balarama Avatar
Shri Krishna Avatar
Buddha Avatar
Kalki Avatar – Lord Vishnu will be incarnated as Kalki at the end of the Kaliyuga
Lord Vishnu Temples
Padmanabhaswamy Temple, Thiruvananthapuram
Sri Ranganathaswamy Temple, Srirangam
Jagannath Temple, Puri
Badrinath Temple, Badrinath
Dashavatara Temple, Deogarh